Gas Prices Beat Rising Home Interest Rates as True Budget Busters
June 12, 2013 by Kevinmiller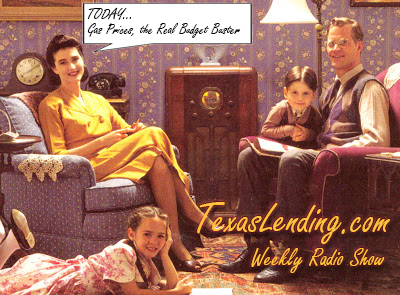 The following is a re-cap of the TexasLending.com Radio Show Podcast from June 8, 2013
Is the expected gradual rise in mortgage interest rates really what will keep you from affording that new home? The truth may surprise you. It may not be the increase in interest; it may be your car. Or the rising cost of the gas you put in your car, to be more precise.
Let's look at a hypothetical scenario where you have a $120,000 mortgage and own two SUVs. You and your spouse both commute to work. If you fill up those SUVs four times each month with 20 gallons of gas each time, you are looking at $80 more every month for each SUV if the price of gas only climbs one dollar. That is $160 more each month with just one dollar more per gallon.
Now let's see what happens if the interest rate rises one percent before you lock in the rate on that $120,000 mortgage.  Your monthly payment would increase by $100.
Now throw in the fact that gas payments are made with after-tax money and mortgage interest is deductible on your taxes. The gas payments still increase your monthly expenses by $160 but the interest increase amount reduces to about $60 or $80.
Which one takes a bigger bite? Which one reduces your ability to pay your monthly expenses like you planned? The more the price of oil rises, the higher the price at the pump. If gas prices go up so far that it is costing people an extra $500 each month to drive to and from work that is $80,000 worth of home value they can't afford.
People got very confused about that in 2005 and 2006 when interest rates were up and the price of gas skyrocketed. Really, the impact of the rise in interest rates was only about one fourth the impact of the rise in gas prices. Gas prices shot up $3.00 per gallon which translated to $500-$600 more each month for the average two-earner households. People just blamed the interest rates, but it was really the gas prices that affected the people's ability to buy homes.
It is true that interest rates have been climbing over the last few weeks but they are still some of the lowest in history. I think we will see a very slight drop in rates again-I think we could see 3.875% with APRS around 4.05% by next month but not lower. That's not enough to wait for if other expenses, like the price of gas, keep increasing.
We do have a rate reducer program so you can take advantage of that lower rate if the rates do go down again between the time you file your home loan application and the time your loan closes.
Remember, while interest rates are certainly important, other factors can be the true budget-busters.
Take action now! Call TexasLending.com at 972-387-4600 to lock in your rate today before the rates creep up any more.