Dallas Real Estate Prices: The Musical
May 12, 2011 by Kevinmiller
If housing markets were mountain ranges, America would be the Rockies, Miami would be Himalayas, and the Dallas-Ft. Worth Metroplex would be, well, the Dallas-Ft. Worth Metroplex.
If housing markets were operas? You'll just have to take a listen for yourself.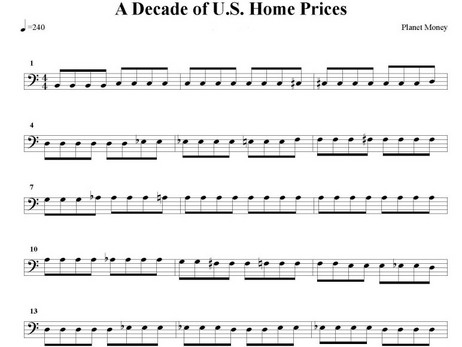 The good folks over at Planet Money are more than a little obsessed with figuring out ways to explain the economy in clear, innovative ways. So it should be no surprise that they went out and hired a real live opera singer to do a fine arts take the Case-Shiller index (which tracks home prices across the nation).
"The Case-Shiller home price index is a powerful way to look at the story of housing in America. You can see the boom and bust all in one simple graph. But when we go on the radio to talk about home prices, a graph isn't much good to us — nobody can see it.

So we converted the Case-Shiller graph into musical notes."
It's a fun way to understand just how the market has changed over the past ten years, and it's a good way to see just how different the housing bust has been in different parts of America. In places like Miami, for example, the pop was severe — think Mariah Carey.
"I could see those towers, those cranes, building those condo buildings on Miami Beach," says Karl Case (of Case-Shiller). "Some of those cranes are still there. They're not building much now."
But in Dallas, the past ten years have sounded more like a chanting Buddhist monk. This is thanks in part to the big boom and boost we experienced back in the 1980s. According to Robert Shiller (of the Case-Shiller):
They've been through that, they've seen it, and they're not ready for another bubble, and they just didn't participate in this one. It's like opera: You only have one grand moment when the heroine and the hero die on stage. You can't do that again right away.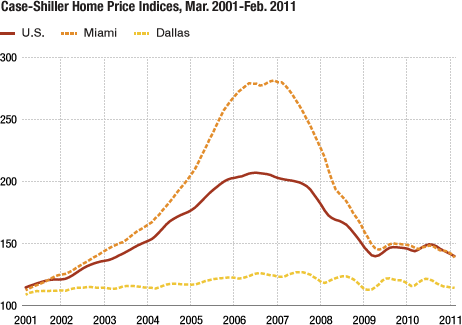 Two lessons:
1. Compared to most places in the country, real estate in Dallas-Ft. Worth is relatively stable. We've got jobs. We've got land. We've got warm weather. It's simply a great place to live.
2. If you take the long-view, even mired…. home prices are still higher than they were ten years ago. In other words, even in a decade marked by the worst recession since the Great Depression, housing still proved itself as a relatively stable investment.
Of course, this is a light-hearted take on a problem that's caused a lot of homeowners a lot of pain. So here at Texas Lending, we're eager to help you make a safe, shrewd home investment. Whether through a Texas home loan, a home refinance loan, or a home equity loan, we'll help you make the most of any market—high or low.