Big Banks Fail Again: Wells Fargo Exits Wholesale Mortgage Lending
July 26, 2012 by Kevinmiller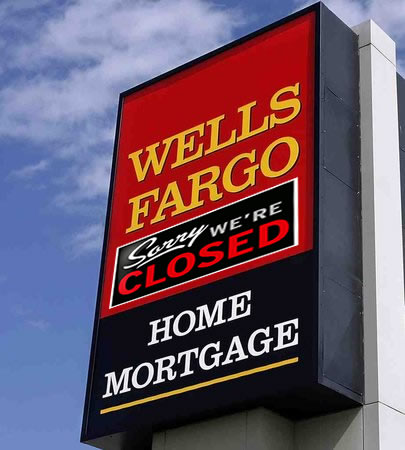 As if you needed one more reason to consider moving your money away from the big banks and to smaller, more personal, more transparent regional banks and lenders (especially in a month dominated by headlines about the LIBOR scandal or the HSBC money-laundering scandal, among others), Wells Fargo has served up a couple juicy ones recently.
First, two weeks ago, the bank agreed to pay out $175 million to settle accusations that it had essentially been levying a "racial surtax" between 2004 and 2009. Rather then setting its rates based on creditworthiness alone, it had been systematically charging blacks and Latinos higher mortgage interest rates than whites with equal credit ratings. (As part of its settlement, Wells Fargo never actually admitted wrongdoing.)
Then, partially in response to the scandal, Wells Fargo announced that it will be exiting the wholesale mortgage arena altogether and will no longer fund loans made by independent mortgage brokers. According to Bloomberg, the bank made $7.4 billion worth of mortgage through brokers in the first quarter of 2012 alone — the most of any lender. This accounts for 21 percent of all such mortgages in the U.S.
Unfortunately for the housing industry as a whole (which can't really afford any major setbacks and delays right now), this will back up the entire loan brokerage channel by a week to one month for anyone using a broker.
Fortunately, for potential home-buyers in Dallas, Austin, or Houston (or beyond, really), TexasLending.com offers a better, faster, more trustworthy way.
According to our CEO, Kevin C. Miller: "TexasLending.com, as a mortgage banker, continues to shorten the time it takes between application and loan closing. With the all-time low rates we see today, you really need to call us a.s.a.p. for your home refinance."
In other words, TexasLending.com bridges the gap between bank and broker, making the home loan process highly efficient and affordable. With our Fast Track home loan program, many home-buyers are able to close on their loans within 10 to 14 days. The savings from its streamlined operation are passed on to the customers.
Contact us to learn more. We've got a diverse array of home loan products — including Dallas home refinances, Austin home equity loans and Houston home purchase loans — ready for you.