Austin Among the Safest Cities In America
November 13, 2012 by Kevinmiller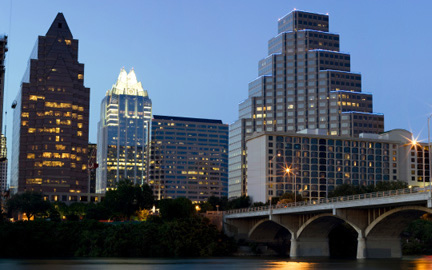 Austin is home to a burgeoning tech sector, a robust economy and one of the nation's most resilient housing markets. Known as the "Live Music Capitol of the World" and home to one of America's most famous universities, the city is young, vibrant, consistently rated as one America's best for singles — yet it's also become a great place for families as well. For lifestyle reasons and economic reasons alike, Austin is simply one of America's best places to live.
Naturally, it's one of the fastest-growing cities in America as well. And when a city grows and changes rapidly, one of the downsides can be that its infrastructure — including physical infrastructure such as roads, but also services such as law enforcement — will struggle to keep up.
Apparently — at least from a personal safety perspective — Austin is coping with its growth and success just fine. According to FBI statistics reported via the Austin American-Statesman:
According to the latest FBI data, which ranks cities from best to worst in terms of crime, Austin has a rate of 430 violent crimes per 100,000 people, behind only San Jose, Calif., and San Diego. The data came from 33 cities that have more than 500,000 people.

Austin has moved up in the rankings since 2010, when it had the fifth-lowest rate of violent crime, [Police Chief Art] Acevedo said. "I think this is something we can be very proud of, despite the Austin Police Department being a very lean department," Acevedo said, noting the city's explosive population growth in recent years. The FBI's data put Austin's population at about 807,000 people in 2011.
Austin, of course, isn't flawless. As the article notes, in terms of property crimes such as burglaries, Austin rates 27th among 33 U.S. cities with populations over 500,000 residents. Still, even there the city has improved; property crimes dropped 9 percent between 2010 and 2011.
Nevertheless, it's a great city to call home. And here at TexasLending.com, we're proud to offer an affordable range of Austin home loans, including Austin home purchase loans, Austin home refinance loans and Austin home equity loans. If your family is considering a move to the Capitol City (or, for that matter, Dallas, Houston or just about anywhere else here in Texas), give one of our Texas home loan experts a call.