Maximize Your Home Equity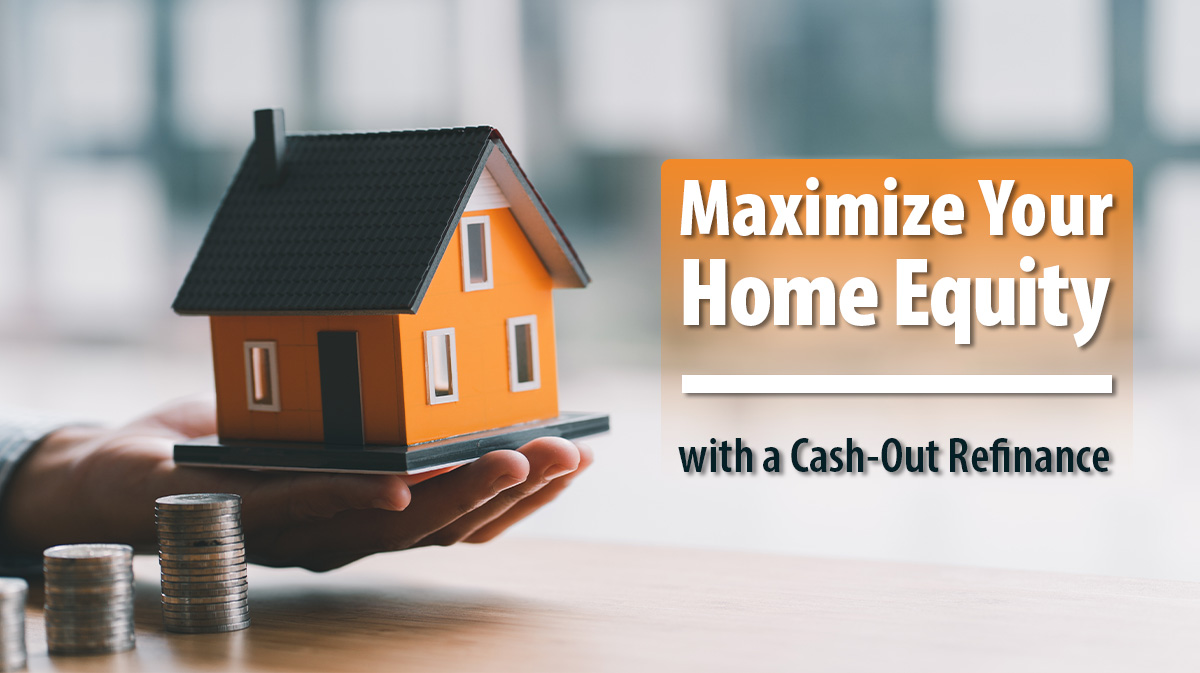 Maximize your home equity with a cash-out home equity refinance loan. As a homeowner, your home holds a value that grows over time. There are times when your home equity is a financial advantage that you can maximize for your benefit.
Using a Cash-Out Refinance loan to access the equity in your home can be the first step to a better financial strategy:
How can you maximize your home equity?
When you have a goal in mind that requires funding, you should take a close look at the options you have for getting the cash you need to accomplish your goal. Credit cards, personal loans, store credit, student loans, lines of credit, business loans, or a cash-out home equity loan could be potential financing options to consider.
Many of these types of financing come with higher interest rates, which means that you will pay more to borrow those funds. However, a cash-out home equity loan is different from the other financing options in a few ways.
Cash-Out Home Equity Loans are a type of secured debt. Secured debts typically come with lower interest rates than unsecured loan types. This makes a cash-out home equity one of the lowest-cost financing options.
Getting a cash-out home equity loan allows you to consolidate the borrowed loan amount into a single payment. For many homeowners, this option is more affordable than borrowing a separate line of credit that comes with an additional monthly payment.
Once a fixed-rate loan is closed, the interest rate and cost of the loan will not go up. Most commonly, cash-out home equity loans are structured as fixed-rate loans. (You can reduce the amount of interest you will pay during the loan term by paying extra toward the principal balance each month.)
So what are some of the best ways you can maximize your home equity?
Let's look at three ways you can make the most of your home equity.
1. Home Improvements or Renovation
Making home improvements is a part of home ownership. Whether you need to make a major repair, update the style of your living space, or add something new to your home, big home projects require cash. Applying the cash borrowed from your home equity to increase the value of your home overall, is likely the one of the best ways to maximize your home equity.
Learn about some of the best ways to increase the market value of your home in our article on "Sweat Equity."
2. Investing in Yourself
If you have goals of higher education, professional training, or building your business, consider utilizing your equity to help you get there. Investing in something that will help you grow in a financial sense by increasing your income and helping you reach your career goals can be a great reason to tap into your home equity.
Student loans and business loans are options worth comparing to cash-out home equity loans. However, student loans come with compounding interest that grows quite a lot during the time you are in school. Business loans can take time, a number of proposals, and a deep dive into your current and future financial plan for your business.
Read more about "How Long Does It Take to Get a Cash-Out Home Equity Refinance" in this linked article.
3. Re-aligning Your Financial Goals
Credit card debt can easily get away from you, leaving you with financial stress that you didn't expect. If debt payments are overwhelming your monthly budget, it is worth taking a look at consolidating your debt.
Interest on credit cards is added to the balance of your debt each month if the balance is not paid off on the credit line. This can mean that paying back the minimum payment amount on any credit card with a high balance, will result in a growing debt even if you are making payments.
A cash-out home equity loan can be a way to consolidate your debt into one stable monthly payment. Remember that a fixed-rate mortgage loan does not have compounding interest like a credit card, personal loan, store card, or student loan. If you need to realign your finances, your home equity could help you pay off higher-interest debts and free up room in your budget.
Learn more and how to "Consolidate Credit Card Debt with a Cash-Out Refinance" in one of our most popular articles.
Our team of licensed mortgage experts would be happy to help you look at your best options for maximizing your home equity. Reach out to us to get a customized quote on a Cash Out Home Equity Refinance when you are ready.