Are you throwing money away on rent?
November 15, 2022 by Fred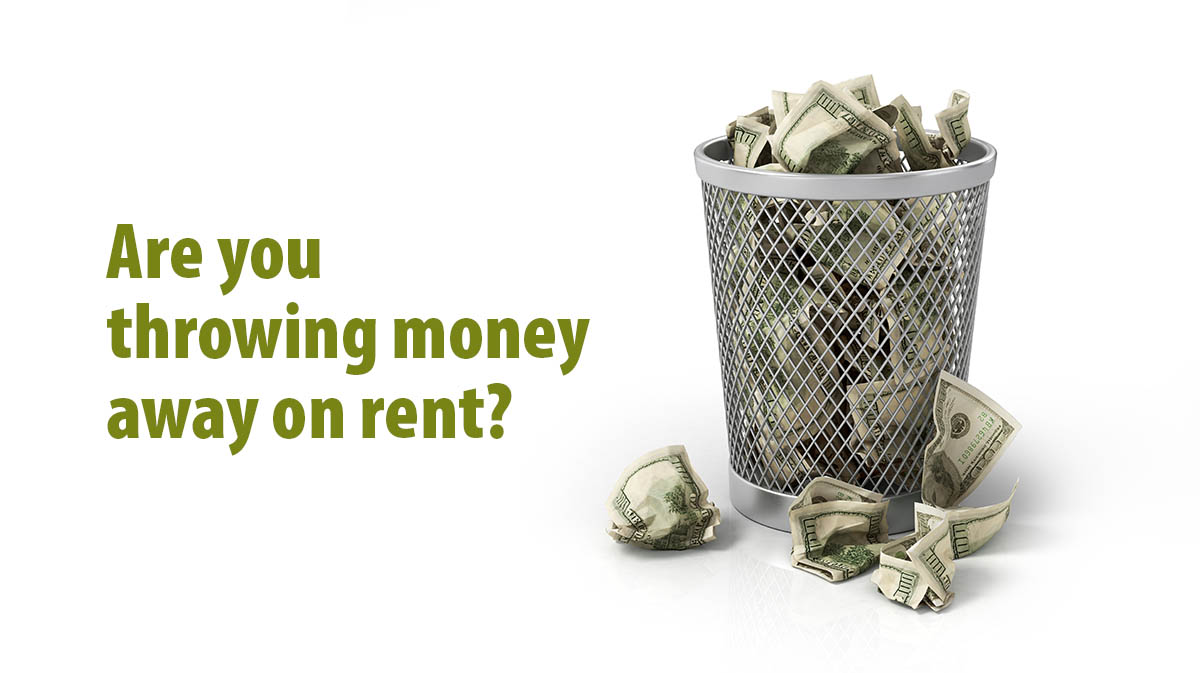 It's not uncommon to hear the idea that renting is throwing away money. However taking a closer look at the investment that home ownership requires, in comparison to the relative freedom of renting property deserves some context.
There can be financial reasons to choose to continue to rent, just like there are benefits to buying a home. It is advisable to consider your long- and short-term goals in deciding if you are actually throwing money away.
Are you throwing money away on rent?
Throwing Away Money vs. A Return on Your Investment
The concept of "throwing away money on rent" comes from the oversimplification of an investment vs. renting in the housing market comparison. If you are simply looking at where your money goes each month, then rent does seem like an opportunity-loss for building equity.
Rent:
When you pay rent you are making a payment, on which you have no possibility of making a return. Your rent is an exchange with the property owner for the ability to occupy a certain space for a specified amount of time. When your lease agreement expires, you can choose to leave the property or renew the lease for another specified amount of time.

Mortgage Payment:
As a homeowner your monthly mortgage is divided into principal and interest payments. The principal portion of your payment goes towards paying back the principal balance of the loan and the interest portion of your payment goes towards paying back the cost of the loan (interest). As you pay back your mortgage loan, you build equity. If you decide to sell your home in future years, you will be able to take the value of most of your equity with you.
Considering Time
While it is true that buying a home is an investment that can result in financial growth for you and your family, time is an important factor to consider.
Home buying requires upfront costs. A down payment, closing costs, appliances, furnishings, and potential repairs are all costs you can expect when buying a home. Because of these upfront costs, renting a home or apartment can be cheaper if you plan to live in the area for a relatively short time period.
As a homeowner, the financial "breakeven point" can be thought of as the sale price that would allow you to take as much equity as you invested in the property, when sold. Generally, you can "break even" on investing in a home somewhere around 5 years of owning the home.
If you plan to live in one area for 5 or more years, buying a home is an investment to consider. With time your equity grows as a homeowner not only with each mortgage payment, but also with any home value appreciation in the market.
Read more about a "Good Time to Buy a Home" in one of our recent articles.
Market Value
Housing prices historically increase gradually over time. When you buy a home your home's value grows with the market. On the other hand, if you continue renting, the cost of renting also grows with the housing market. Ever-increasing rent costs are a common reason that renters decide to make the investment in home ownership sooner.
With a fixed rate mortgage loan, the principal and interest portion of your mortgage payment does not change. This provides homeowners with some protection from market fluctuations. The market also provides equity growth for homeowners. The value of your property is likely to grow with time, which increases the growth rate of the potential return on your investment.
Take a look at our Texas Housing Market Report for Home Buyers to get an overview of what is happening in the current market.
Are You Throwing Away Money on Rent?
The honest answer to this question depends on your plans and financial outlook. Let's take a look at both scenarios.
No – Renting is not wasting money for you if:
You aren't financially ready to invest in home ownership
You are planning to move to another city in the next few years
You value the conveniences of renting more than the benefit of building equity
Yes – Renting is like throwing away your money if:
You are financially ready to buy a home, but you are waiting for the "perfect time."
You plan to live in the same city for 5 or more years
You want to invest in owning a home and building equity
Get a customized look at your home loan options by connecting to a mortgage expert on our team. Pre-approval is fast and FREE with TexasLending.com!